Unyielding Love – Nick & Bee Vol. 1 + a Teaser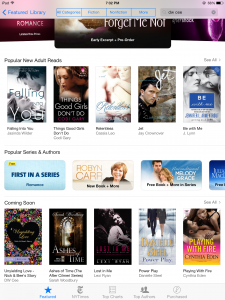 It's always a great day when I find my book on the front page of the iBookstore. As much as I'd love to be featured in the revolving carousel way up on top, I'm honored to have been chosen in the "coming soon" category three levels down. As you all know, Nick & Bee's Story Vol. 1 is coming April 4, 2014. For those of you who would like to pre-order, here's the link.
To celebrate making it onto the front page of iBooks, I think I will send out a teaser! This one will give you a different understanding of where Nick is coming from and some of you may even start to side with him. Then again, maybe not! Let me know what you think of the teaser.
"Would you like to tell your grandmother what's bothering you? Is it Bee? I assume you two are no longer together?"
Did I want to repeat the story? The way Gram was staring me down, I didn't really have a choice.
I went through the entire Nick and Bee saga and ended with, "So you see why Bee and I can't work?"
"Do you truly believe you will stay single for ten years?"
"I don't know. I'm only twenty-five, Gram. I don't want to be married soon."
"But your heart is already with Bee. Why fight it?"
"Because I don't want my wife supporting me. I'm still a student. It's fine for Laney to marry as a med student since she has an all-powerful husband who makes money in his sleep, but that's not my situation. I don't even have a home, Gram. I'm still living with my parents, receiving an allowance, and my only worry is studying for my next exam. I don't want the pressures of making money, at least not yet, and I don't want the pressures of taking care of children."