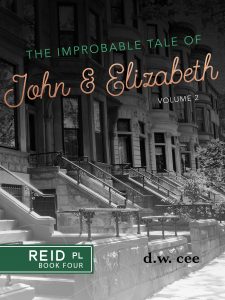 "I heard you all had a blast last night." Regardless of the late night, I rose early and called Els.
"We did, Els. How was your night?"
"We cleaned up and went to bed. Nothing exciting happened here." She sounded tired; I had called her too early. "How much longer will you be at the ranch?"
"We crawled into bed a few hours ago. I can't imagine anyone getting up soon."
Els had a fantastic idea. "Why don't I come up and get you? Let me brush my teeth, throw on some clothes and I'll pick you up. There's a great breakfast place not far from where you are."
"I'd love that but are you sure? It's far, Els."
"Don't you know I'd drive to the other side of the country if I could be with you?"
"Damn, I love you!"
"I love you too. Let me go so I can come to you sooner."
We hung up and I walked the property while awaiting my girl. What I didn't expect was to find Nicky roaming the grounds as well.
"You're up early." I greeted.
"Yeah. It's the inventor in me. Once I get an idea in my head, I can't let it go until I find a solution."
"Care to share?"
He thought about it for a bit and answered, "Not yet. It's not formulated enough for sharing, but I will as soon as I know how to explain it."
"Fair enough."
Nicky said, "That was some trick your team pulled on us last night. We would've been crowned the winner, second year in a row, had you not ambushed us from atop."
I laughed. "Blame it on your cousins. I had nothing to do with their brilliant plot."
"James can be as creative as Lilah when pushed. Most of my cousins are left-brained but a few of us have both sides working. James can be a bit more creative than his twin. Ellie is all logic and numbers."
"I didn't realize that."
Nicky laughed. "That's because you can't see beyond the starry-eyed filter."
"You, too, believe Els and I went too fast?" Talking to James Reid last night deflated the relationship high I was on. Talking to Nicky this morning could finish me off.
"Not my business, but if you want my opinion, it does appear rushed. However, what's between you and my cousin should stay between you two…plus her family and yours."
"Have you ever been so taken by a woman that you can't see straight? Even if you saw all the dangers and pitfalls, you didn't give a damn? You only cared about the two of you and no one else?"
"Yeah."
That was surprising. "Yeah? Are you seeing someone?"
"Kind of."
"You gonna expound upon the 'kind of' statement?"
"Not really." Nicky laughed. "Listen, I met a girl, fell for a girl, then had to end it with her because we couldn't place our relationship before our lives. My story is not your story. However, I do see a huge problem with your unexpected love triangle. I'm not sure if my cousin, or even you, fully understands your twin's interest in her."
Here it was, the dreaded John-Els-James discussion. "Damn. You noticed, too?"
"It's hard not to notice, John. You need to talk to your brother and get him on the same page."
"Els' twin said the same thing last night."
"We're a tight-knit family. I don't know of a closer family than ours. That being said, Ellie will not want to be the source of your discord. She's grown up in a bubble; we all have. Reality will bite once she understands what's really going on."
I could take this conversation no longer. "Thanks. I'll keep in mind what you've said. Can you let everyone know that Els is taking me back home?"
"Good luck, Man." Nicky waved. "We are rooting for you."
"Thanks, again."
With a heavy heart, I went to meet my girl.