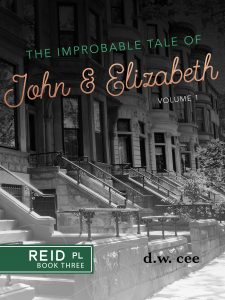 If Mom's smile could erase Dad's frowns, John and I'd be at the finish line already. It was comical how much Mom liked John and how much Dad disliked John.
John settled into the guestroom, without my help, as I was called back to my overprotective father. He asked random questions about my patients, questions that he knew the answers to, and basically kept me hostage until John came and joined us for dinner. There was so much food left over from the earlier "party" that we helped ourselves and sat outside.
"When will you start working, Dr. Solomon?" Dad was trying his damnedest to stay detached.
"Come on, Dad. Don't call him that. If we followed your lead, we'd all be calling each other, Doctor."
Dad chose to ignore me and looked to John for an answer. "I've spoken with Dr. Singh and told him I was ready to start as soon as he needed me. We're supposed to meet tomorrow…" John looked to me before asking, "What should I call you…Dr. Reid?"
Before he could answer, Lilah called out, "How about Dad?" and started giggling. "Hope you don't mind me joining you for dinner. I didn't get to eat earlier."
"Welcome, Lilah."
"Hi Auntie Emily." My cousin leaned over and kissed my mom on the cheek. "What do you think about John calling you Mom and Dad? Why wait? He's practically part of the family. All the women love him."
I loved my cousin!
Mom's pretty face broke into a smile. "I'm good with that. Dr. Reid?" she asked her husband right before sitting on her husband's lap. "Another son?"
Dad kissed his wife but didn't answer her. Instead, Dad commented, "Speaking of sons, there's my firstborn. James. How was your day? All is copacetic at the hospital?"
"Yeah, Dad. If only I can go away every weekend like some doctors I know," he kidded.
John stood up with me and introduced himself before any of us could make introductions. "Thank you for all your help," John said with a chuckle. "Not that you had any idea why your sister was abusing your generosity." The two shook hands. "I'm John Solomon."
"Eerily, you remind me of Dr. James Solomon. I assume you're the evil twin dating my evil twin?" My brother was such a great guy. I loved him for breaking up Dad's frown; his lips kind of upturned.
"Yes, my brother is definitely the better half of the Solomons as Els, I'm sure you'll agree, is your better twin."
"I'll agree she's the savvier twin—two trips to New York in the past ten days." I hugged my brother for diffusing any and all awkwardness.
"I promise to take your weekends for the next month."
"Yeah, right." My brother wasn't convinced. "You say that until John has a weekend off. I think I need this in writing, or on tape. Mom, you have paper and pencil here somewhere?"
"If I worked in cardiology, I'd offer to take your weekends, too, James."
"Sure," my twin teased, "you can say that because you have no chance of taking my weekends."
I adored this camaraderie. "Speaking of James, do you know where John's brother is? John can't get a hold of him."
James finally solved the mystery. "James went camping with some friends. He told me he was going to be in some remote area. I assume he'll be back Sunday since a group of us from the hospital are having dinner on Monday."
John looked a little worried. "I can figure out where our apartment is located, but I don't have a key." He didn't have to say anymore.
Mom jumped in with, "Any son of mine is more than welcome to stay here as long as he wants." I don't know that I've ever loved my mother as much as I did now. She made her awesome declaration even better by adding, "Right, Jake? Our children are welcome to stay with us as long as they like?"
Dad's groan was louder than our laughter.