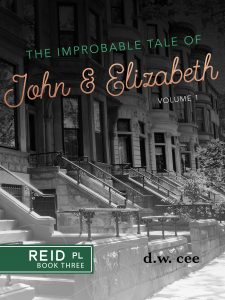 The size of my head(ache), right now, was that of a cartoon image right before it blew up so badly that everyone had to take cover so they wouldn't become collateral damage.
What the hell was Lilah talking about, and how had I not seen this?
I didn't know what to think. Was this good news? Bad news? No news at all? Had we never exchanged important details like last names? Hadn't we talked about being doctors? Had we not asked those questions about med school, residency, and work? We'd been talking for hours! What had we discussed in all that time?
"My sister looks as if she's about to hemorrhage that gigantic brain of hers. Why don't we head out for an early dinner at our favorite Israeli place and talk details? Obviously, you two did something other than talk since you met for lunch." While my brother and cousin laughed, I didn't know how to react.
"Are you all right, Els?" When had I become Els? Not that I minded the nickname. It was cute—actually adorable, if I was in the mindset to analyze nicknames.
"Come on!" Lilah dragged us both out for a short walk to our usual dinner haunt. Once we ordered and found a table, my inquisitive cousin did what I should've done from the onset. "Your last name is Solomon?"
"Uh-huh." John, too, was quiet until we sat. "So, what's your last name?" he inquired.
"Reid," I pointed to us, "and Taylor," I pointed to Lilah.
"If you're a Reid, then how is the chief related to you? How is the entire hospital related to you?"
"Jake Reid is our dad."
John took some time to analyze me and then JR before saying, "OK. I see the resemblance."
"How have we never met? Were you not at the weeklong orientation at the hospital? I know we had a lot of new doctors and nurses this year, but I would've remembered you."
"Did you remember James, his twin?" Lilah asked.
I didn't think so but I had to think about this some more.
"I wasn't there due to my grandparents falling ill. They're much better now, but back then, I asked Dr. Reid for a little leeway so I could take care of my grandparents. Only James was there."
"I take it you're fraternal twins?"
Lilah snorted. "Fraternal, but still twins, Els. They look almost identical to me. How could you not see the resemblance after spending an entire afternoon together? Obviously, you and John spent a lot of that time with your eyes closed and your mouths…open? Closed? Attached but not speaking?" She and my brother were having a good time at our expense.
John took this as seriously as I did. "Could I ask you what you meant about attracting two brothers?" he questioned Lilah. "James hadn't mentioned meeting anyone special at the hospital. I would've known something if he was interested in anyone."
Was Lilah correct? Except for that one time when I thought he was asking me out, I didn't think James was interested in me—was he? Shit! I hoped not.
"Well, he did ask her out."
Lilah's explanation didn't sit well with either of us. We both spoke, loudly, simultaneously. "He did?" was his query while mine ran along a contrarian line of, "he did not!"
My cousin's silence was an uncomfortable one. It was only when she smiled, I thought all would be OK. "It's probably my writer's imagination running wild. I thought James was interested in my cousin, but if he's never mentioned her to you, then I must be wrong. He did join us at one of our family parties, though Ellie and I were here in New York. According to my mother, he got along well with the family, but that doesn't necessarily mean that he likes Ellie."
That was a relief! I, too, didn't think so. John, also, looked completely relieved. He was first to speak. "I was going to tell you about heading to Los Angeles, but I didn't want to make any assumptions about us—or better put, I didn't want to hope just in case you weren't as interested as I was."
Our story was getting better and better. "When will you move west? Will you bring your grandparents with you?"
"They both had a bad case of the flu, but are on the mend and doing almost well. They won't leave Boston so they'll be here while we're on the other coast. There were days when I thought I should stay home to take care of them. But now that I've met you, I feel guilty for wanting to head to LA as soon as possible." His words made my heart go mad with happiness. "However, it's not just me. My grandparents are itching for me to move out," he said with a laugh. "Just this morning, Grandma was telling me to start packing."
"They're all right with you leaving?" I shouldn't have been this hopeful. "Will they be all right after you leave?"
"They're pushing me out of the house," he confessed. "They were the ones who encouraged us to get out of Boston and to leave their nest. Neither grandparent wanted to see us 'stuck in one place the rest of our lives' they'd always say. I think I worry needlessly about their well-being. And to some degree, my grandparents haven't had much freedom. They went from raising their own child to raising grandchildren. I probably should allow them some breathing room, but I worry about them."
John Solomon was a good man. He knew how to love. Anybody could see how much he adored his grandparents.
"I'd love to meet your grandparents one day." Those words came out without reservation and too early in this stage of our "relationship."
"And they'd love to meet you, Els. They encouraged me to bring you home tonight," he answered with a chuckle. "I explained they were a hundred steps ahead but they thought differently. Having lost their only child, they are firm believers that life is too short to walk in a straight line always looking over your shoulder."
"I'm game to meet them if you want to take another four-hour drive." Where was this impulsiveness coming from?
John was thrilled! JR, not so much.
"I'm going to have to break up this family reunion with a gentle reminder that Mom and Dad don't even know that you're here meeting a boy," JR spoke directly to my guilty conscience. "I can't imagine what Mom and Dad would say if they knew you'd betrayed them."
"Don't be a stick in the mud, JR. Where's your sense of romance? That government job of yours has you paranoid," Lilah warned with glee.
"Lilah," JR tried to sound ominous but failed. "Stop giggling. This isn't funny."
Once again, it was my cousin to the rescue. "How about if we all drive home with John? I'm sure his grandparents wouldn't mind putting up with us for a night?"
"What a fantastic idea! Our house has plenty of rooms. Grandma would love to take care of you. Would that be all right?" John asked me, first, but JR was a big concern.
"Sounds perfect to me. We'll change our flight and leave out of Boston." I turned to my brother and asked, "Do you need to be in New York or can you spend a day with us in Boston?"
He assessed the situation and knew he had no choice. Lilah and I'd be in Boston with or without him. "All right," he groaned. "But you owe me," he told both me and our cousin.
We ate fast and packed even faster.
We were on our way to Boston. I was on my way to a new future.