More Good News!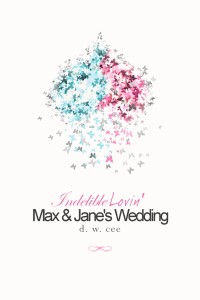 iBooks has surprisingly listed Indelible Lovin' – Max & Jane's Wedding for pre-order in under twenty-four hours. I just sent it to them yesterday for approval and voila, here it is. You can pre-order your book now!!!
I know I've promised a summer release but due to a few change in my life, I've had to push the date to a fall release. What, you ask, is so important that I can't get two books out in one summer? For one, my kids are changing schools. Two, we just sold our home (in like a day) and need to close escrow in 15 days (12 and counting…). Three, we've put in an offer on the ugliest house I've ever laid eyes on (because the bones of the house was good enough to work with, or so I believe) and need to move soon. My life is always…interesting.
The sample in iBooks contains the prologue and first chapter of the book. As a thank you for pre-ordering the book and for being so patient, if you send me your screen shot of the pre-ordered book, I will send you chapter 2 some time between closing escrow on one house, possibly buying another house, and directly going into construction on that same (very ugly) house. In actuality, it won't take that long. It's already written. I just need to get my editing peeps to read it over for me.
To those of you who don't do iBooks, I'm sorry! I can't help that Nook and Kindle won't take pre-orders from a no-name author. All I can say is, I hope to have the book to you sooner than the expected release date.