John & Elizabeth's Tale Coming Soon!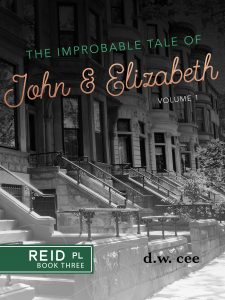 After surviving EIGHTEEN college applications and THIRTY essays, I (kind of) feel like I can breathe again. Now, my son wants me to look over his essays for scholarship applications. (Insert tired emoji) It truly takes a village to send a kid off to college.
I've been writing where I can and I have four blogs left before Vol. 1 ends. I'm hoping to have these done within the week and off to be edited. Actually, I have to be done asap since I've put my books on pre-order for both Kindle, iBooks, and Smashwords. I'm excited to announce that The Improbable Tale of John & Elizabeth Vol. 1 will be released on Valentine's Day! In the meanwhile, I'm going to stop sending out Monday and Thursday blogs until after the book has been published. I know we started the new year with John finally getting his say. You'll be glad I've saved all he had to say for you to read in one sitting. Once the book is published, I'll release them to you again.
Pre-order your book and be the first one to see what exactly causes John to say good-bye to his love. Until Valentine's Day, keep in touch and let me know what you think of these two love birds. If I'm not inundated with more essays to read, I'll try and send out a surprise blog or two.