I Have Lots To Tell You!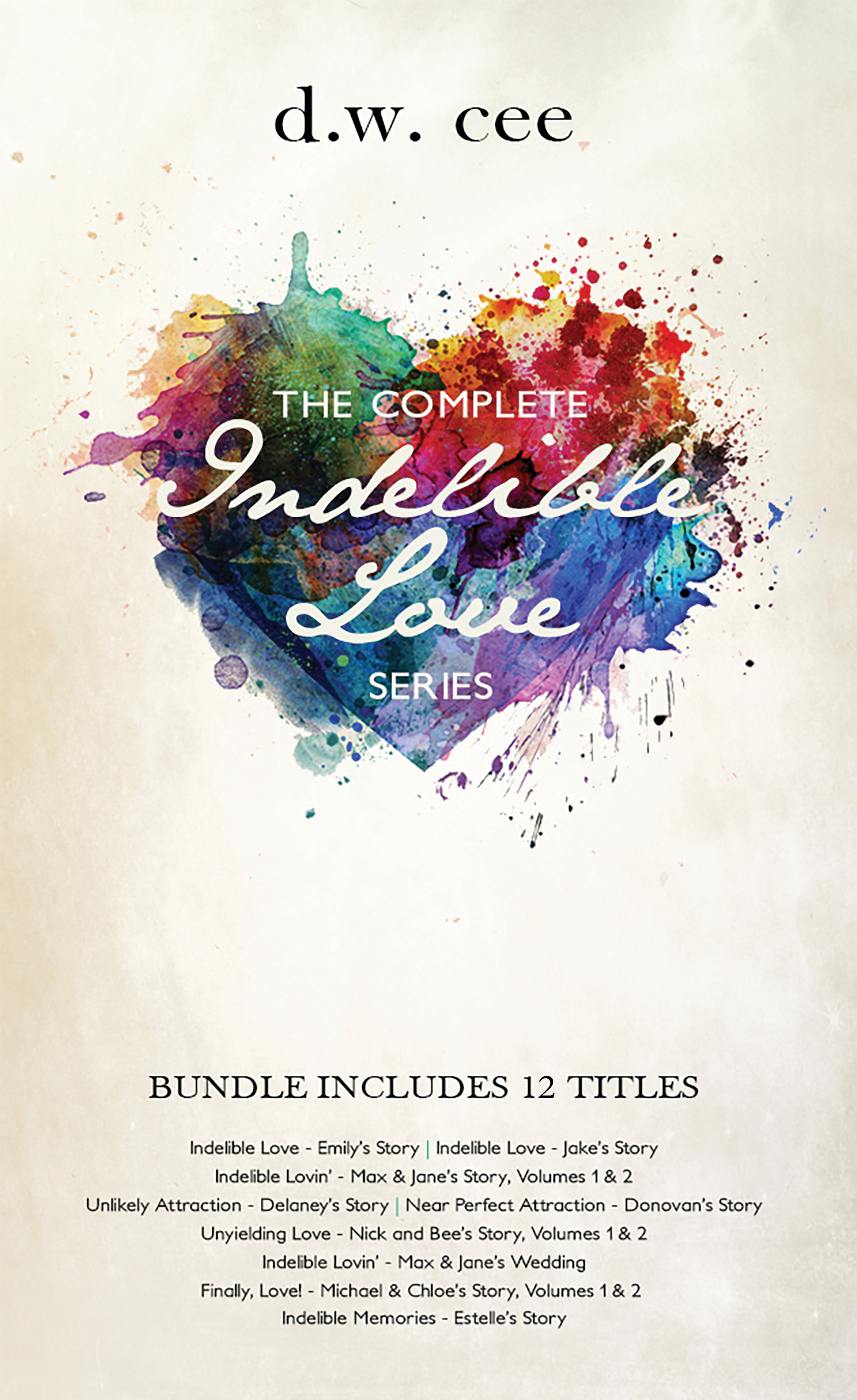 No – Not a new book. Well – I guess it's kind of a new book?
I've bundled all twelve Indelible Love books and put them all behind this new beautiful cover. From Emily's Story to Estelle's Story, they are all there. It's priced at $9.99 on Amazon, iBooks, Smashwords, and Nook (soon to come). I know many of you have all the books. For those of you who are missing a book here and there, I have a special offer for you. I have a coupon code, valid until the end of February, on Smashwords. Type in GN37M at checkout and you can have all twelve books for the price of one, $3.99. If you've never purchased from Smashwords before, it's very simple and they give you the option of downloading this book in several formats. For instance, if you have an iPad and you read off both iBooks and Kindle, you can download the same book for both apps. I'd like to offer this deal through Amazon of iBooks, but there are no coupon options on either sites. Thus, Smashwords is the place to go for your special deal.
For those of you who have purchased all my books, I'd love to give this to you for free, but I'm unsure how to accomplish this. Though I can generate a coupon for you, I don't know how I'll know that you've purchased all twelve books. If you can come up with a good idea, post an answer below or email me at dw@dwcee.com and we'll work something out. I don't want you to buy another book when you already own the series.
Another bit of news and a request for help from you today, Wednesday, 2/10/2016. I have a promo happening with BookBub where Emily's Story will be free for a month. BookBub won't advertise it unless Emily's Story is free everywhere. As of right now, Kindle US and Kindle India has not made it free yet. Kindle usually won't allow an indie author a free book unless s/he goes into an exclusive contract with them. This means that the author cannot sell anywhere else. The only way to make my book free is if people click on the "Would you like to give feedback on images or tell us about a lower price?" link. If you can click on the tell us about a lower price link and tell them that you saw it for $0.00 from https://www.smashwords.com/books/view/157146, it would help me from forfeiting a lot of money to BookBub.
I've mentioned somewhere that I'm writing Book 3 of 10,000 Reasons Serial? Well, book 3 is almost done. I'm a little behind on Nolan and Delilah's Tale because I can't seem to stop writing this story. I hope to release all of these books around June.
Now, for the best news of them all! After a three month hiatus, we are headed back into the blog world! This week, I will release the first part of The Impossible Tale of Nolan & Delilah on a holiday that is near and dear to a romance author's heart. After the first week, we will head back into the usual Monday, Thursday schedule. If you haven't read Brendan's epilogue and Delilah and Nolan's prologue, I suggest you read this before you dive into their tale.
I think that's all for today. If you could help me by contacting Amazon, I would really appreciate it! Also, don't forget to use the coupon for Smashwords. It expires at the end of Feb. Bye for now.