Great Buzz Down Under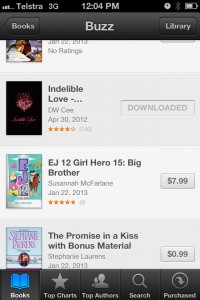 Thank you to Aussie reader, Jodi Pollard for bringing this to my attention.  Apparently I made the Buzz section of iBooks Australia.  To celebrate, here's another teaser for ya!
"Yes."  My brother answered.  "Last we left her, Donovan was helping her study for her statistics final."
"Donovan?"  Why was I a little bit upset that they were together?
"He came by to get Roland to sign some documents and stopped by our place to say hello.  I was helping xxxx with her studies when Donovan popped in so I put him to work." Jake looked triumphant for some reason.
"What'd you do that for?  xxxx doesn't like him."
"Could've fooled me.  Emily just called home to check up on the kids and he was still there.  They just finished eating dinner."  Jake had that smug look I so hated.
Only a few more hours to go till Thursday's blog!