Forever Reasons Trivia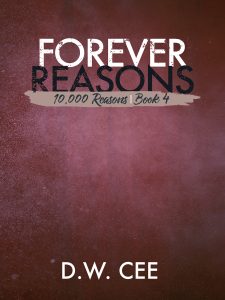 For those of you who've finished the last book of this series, I'd love to throw a little trivia your way. I'm curious to know if anyone caught onto the few subtle (and not so subtle) clues I dropped in Forever Reasons.
Here are the questions, ranging from easy to hard. The first person to answer them all correctly will win something – I just don't know what, yet!?! (Maybe a sneak peek into Nolan and Delilah Vol. 2???) 🙂 Post your answers here, on the website, to be included in the hunt for this "elusive" prize.
1. If there is a next 10,000 Reasons series, who will be the hero and heroine?
2. There are two cities, other than Los Angeles, that always seem to find their way into my books. Which ones are they?
3. There are two very similar passages between the four books. Where do they (specifically) occur?
4. There is a character tie-in between 10,000 Reasons and another one of my books. Which book and who is the character "mentioned" in Forever Reasons?
Send in your answers even if you're not the first one to do so. You can still be a winner.