Finally, Love! Michael & Chloe's Story Vol. 2 is almost here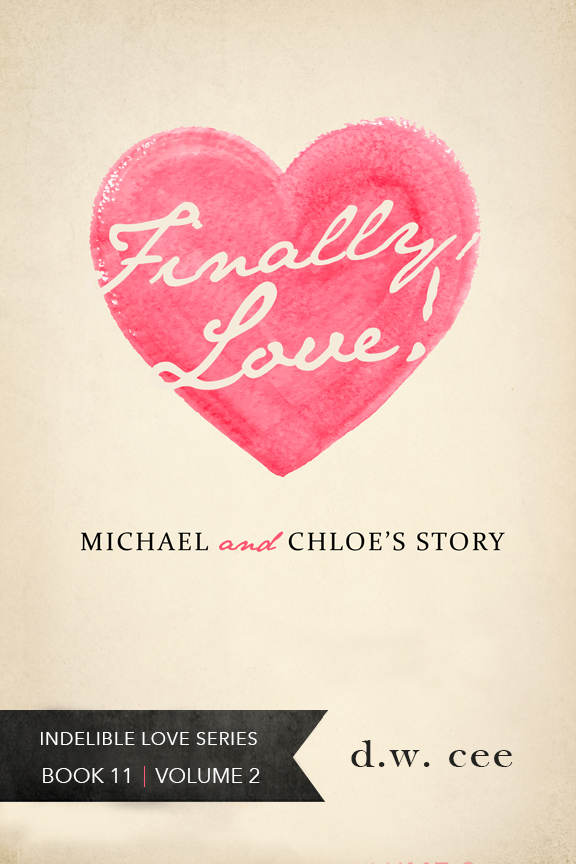 Hey Ladies!
Vol. 2 is almost here and I've still haven't finished editing the final copy. I'm always early with everything I do, so I'm a little stressed about this book. I wish reality wouldn't get in the way of fantasy, but it does–everyday!
Though all my editors are all done, I'm going through the blogs one last time before it hits the e-stores on Nov. 3rd. With all that's going on in my life, I still haven't put it up for pre-order with Kindle, either. At this point, I'll just have it for sale on the 3rd at the usual e-stores.
I'm sure you're wondering where this story is headed? I'm crazy excited for you to read how Nick & Bee, Jake & Emily, Niles & Elaine, Donovan & Delaney, and Max & Jane all team up to help our hero and heroine. To give you a little taster of what's in the book, here's are a few teasers.
**********
"Laney told me how your husband planned this entire wedding by himself. Were you shocked when you found out? How did he pull it off?"
Bee laughed. "I think he pulled it off because there weren't too many days between a lightbulb going off in his head to the actual wedding day, for anything to go wrong. Plus, he called all the right people. Jamie, Babs, and my mother-in-law helped Nick make all the on-site decisions, Missy and my girlfriends made my dress, the rest of the family took care of all the family logistics, and the resort did the rest. Everyone enjoyed their stay here. You'd like it too, Chloe."
**********
"Those days were the worst five plus months of my life!" Jake explained. "I got upset when I saw Max proposing to my girlfriend—"
"Wait! Did you just say Max—as in your brother-in-law, Max?"
"The one and only, Chloe."
"Oh my gosh, Jake. This story is too much. I always thought of you Reids as the perfect family. You meet. You fall in love. You marry. You have kids and live happily ever after. Who would have thought your brother-in-law was once your enemy?" Chloe enjoyed this story as much as I did.
**********
"Tell me about your marriage, Niles. I know you and Elaine met thanks to our coffee business, but how do you make it work? The biggest fear I have about getting married this late in life is that Chloe and I will be too set in our ways."
Niles didn't think long to come up with an answer. "Elaine was terribly homesick when we first married. Having lived on a coffee plantation for so long, she had her immediate family and the coffee 'family.' When I took her away from all that and whisked her off to London, she was lost."
**********
That voice was none other than Laney Reid Taylor! I jumped up to greet Laney and her husband. "I can't believe you're here. This is going to be so much fun," I exclaimed.
"Damn right, it's going to be fun. We're here to outdo the first three couples." Who knew Donovan Taylor was also funny on top of drop dead gorgeous.
"You're staring, Chlo-No." Michael's whisper wasn't that much of a whisper.
"Sorry." I said to everyone and then turned to Laney to say, "How do you not end up staring at your husband all day?"
Donovan grinned. Michael and Laney rolled their eyes.
"I questioned your taste when I heard you'd chosen Michael as your mate, but now I question it no more. You know what's up, Chloe Darcy." Donovan declared to his wife's groan.
**********
"The view is spectacular. The wine is a close second. The company…not too bad, I suppose." Max always had a good sense of humor. "I'm not particular about too many things in life. As long as Jane and the boys are healthy and happy, life is good."
"Of your lot, you appear to be the most easygoing," I made a casual comment.
"Yeah? You think so? Nick's right there with me and Jake and Donovan have their moments too." Max answered with a grin. I'd forgotten about Nick. He was the epitome of laid back as well. "So what's the big secret?"
"I'm not a hundred percent sure, but I think it might have to do with Chloe being…
**********
These are just snippets of what's to come in the book to be released next Tuesday. You're in for a real treat.