Emily's Story, Unknown Reasons, & iBooks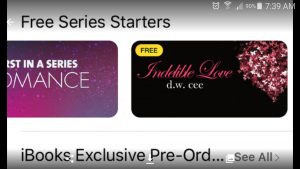 When you go to your US iBookstore, you'll notice that Indelible Love – Emily's Story is being featured as part of their "Free Series Starters" promo. There are a few exciting things in the works for Emily's Story and the iBookstore in the coming month. If you have friends who haven't read the book that started the Indelible Love series, repost this message on your social media accounts so they, too, can become a Reider just like you.
Have you finished Unknown Reasons? How many of you stayed up all night because you couldn't put the book down? Reider Ana O just sent me this on my FB page after she finished the story.
"OMG… it was frkn amazing. U have left me wanting so much more and I cannot wait for Relationship Reasons to release next week!!!"
If you haven't started this series, you need to begin your relationship with Xander Blane and Jenna Ashe, now! These two will stay in your mind for days to come. By the way, for those of you who've already emailed me a screenshot of your review for Unknown Reasons, a (very long) teaser is coming your way soon. If you haven't already, send in a screenshot of your review(s) and you, too, can learn what happens next with Xander and Jenna.