Don't forget to pre-order before Monday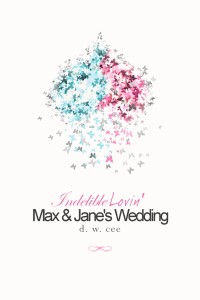 I wanted to remind you to pre-order your iBooks copy of Max & Jane's Wedding by the end of Monday, July 21, 2014 to receive Chapter 2. Some of you have mentioned that you weren't able to see the sample first chapter. I will make sure to add it to the second chapter in the email I send out.
To receive your copy of Chapters 1 & 2, please send me a picture copy of your pre-ordered book. Somewhere in the picture must say that the book has been pre-ordered. It cannot just be a copy of the pre-order page. Send it to dw@dwcee.com and I will respond with the teaser some time next week.
Did I mention that Max is the one talking in the second chapter? Chapter 1 is called "15,000 Unexpected Guests," with Jane as the narrator, and the next chapter is called "The Uninvited Guest," with Max narrating his hilarious account. Yes, they take turns talking and the book is divided into four sections: Summer, Fall, Winter, and Spring. And since this will be the last Reid book for a while, there will be a very special Epilogue surprise I will keep to myself until the book is released.
For those of you who have read and reviewed Nick & Bee Vol. 2, I thank you for your kind words. I've read the reviews and am always in awe of your generosity toward my abilities as a writer. What started as a hobby has turned into something beyond even my wildest of imaginations.
I wish you all a great weekend.