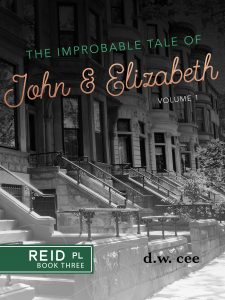 Where are you? You never explained why you couldn't come over last night. I was told you were sick, so I came to your apartment but you're not here. That was my girl frantically searching for me first thing in the morning.
Via text, because I couldn't bear to talk to her, I wrote back, I called in sick, but am not physically ill. I need a little time to think. I'll come see you when I get back in town?
John! What's going on? You've been so distant lately. I'm worried. I keep wondering what I've done to push you away. The anguish in her voice called me, almost forced me back to the cul-de-sac.
Els, I truly, truly love you. No matter what anyone says, I've never loved anybody as much as I love you, never felt such a deep connection with anyone, as I do with you. I'm struggling through a few issues, but it's not anything you've done. You haven't pushed me away. I'm still with you and would like to stay with you as long as you'll have me. Please give me a day to figure some things out?
Let me come to you, John. My brother will cover for me. Let's figure things out together. You're making me feel useless. I want to help.
I'll come to you soon, OK? Don't worry, Els. Just know that I love you. I'll text as soon as I head to the cul-de-sac?
I could hear the sigh in her text. All right. I love you too. I'll see you soon?
As soon as possible!
Ending the text, I started driving again with no planned destination. The warring thoughts in my head kept me from thinking about the mundane. Yesterday's conversation played on a loop. I was helpless to stop the unwanted assessments and accusations.
An unexpected shrill of the phone saved me from what felt like a fall into despair. All this time, I had had no clue my family thought so little of me. G, Gramps, James, and probably my parents before they left us, believed I didn't put family first. It hurt too damn much. I hurt too damn much.
Against better judgment, I picked up the call. "Hello?"
"Finally!" James muttered. "Where the hell are you? To say your girlfriend is upset is like saying the Red Sox are just a bunch of guys who play baseball." What does one say to the guy who was the source of his grief? Maybe it wasn't James' fault? Like my family thought, maybe it was all me and I had no clue because I was selfish? Maybe I should step back and take a look at my life before mouthing off to Els about taking care of her life? Maybe I was just a loser who didn't deserve Els and my family? "Hello?" James called out loudly.
"Yeah, James. I'm here."
"Tell me something," James paused before asking, "did you walk in on my conversation with G and Gramps last night?" Embarrassed to have been caught eavesdropping, and embarrassed to know how little my family thought of me, I couldn't answer. "I thought so. I told G and Gramps that I had this weird feeling you were in the apartment, but when I went outside, no one was home." Still, I could say nothing. "When you didn't come home last night, I worried but hoped you might be with Elizabeth. Seeing her this morning proved that you heard what was said." Damn. If it wasn't bad enough that I knew what James thought of me, he knew that I knew what he thought of me. "You heard all of it, didn't you? When did you leave?"
"I left when it became unbearable," I confessed. "Let's talk about this later, James. I need to clear my head."
"John," my brother sounded remorseful, "it's not your head you need to clear. We need to clear the air."
"We will, but not now. I don't know what to say or do right now. Give me a day or two to figure myself out."
"Fuck!" James spit out. "It's not as bad as you're thinking. I was just letting out some steam and it came out the wrong way."
I don't know why I asked this question or where I got the nerve to ask it, but I said, "Answer me this one question, James. Have you, G, and Gramps, always believed that family was low priority for me? That I cared about others above you and the people who raised us?"
"It's not that simple, John."
"It sounded fairly simple to me last night. Am I that person?"
After a few more four-letter words, James answered, "I just want us to be friends again, brothers again. That's all. There's nothing nefarious or malicious going on behind your back. I should've talked to you rather than G or Gramps. It's not easy to chat it up with you when Elizabeth's involved."
"Can I ask you one more question?" Tentatively, he agreed. "If I marry Els, will our relationship ever recover? Will you ever forgive me, or will you and I be lost forever?" As expected, James couldn't answer. "I'll be home tonight," was what I said before hanging up on my twin.
I continued driving, hoping a solution to this mess would appear magically. Indubitably, the answer never came.