Back to Reality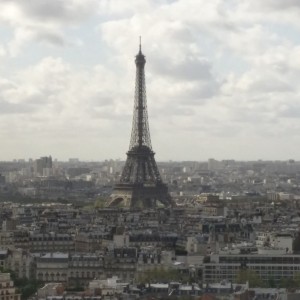 Even with the Eiffel Tower as my backdrop, there was nothing like the feeling of sliding into my own bed last night. After twelve days, four cities, three countries, an FC Barcelona soccer game, a Segway tour through Madrid, a bike tour through Versailles, and a walking tour through London – all four of us are home safe and sound.
I actually went an entire twelve days without writing a single word (never before done since I started writing), but read a slew of books during all the "down" time. Though I didn't write, ideas for the next book flowed freely during this trip. I can't wait to get started on the next book. Of course, there is the small issue of Nick & Bee's Story as well as Max & Jane's Wedding. Both should be done this year?!?
For those of you who sent me a review for Unyielding Love – Nick & Bee's Story, I thank you and will send you the May 1st blog some time tonight once all the laundry has been done ;). For the rest of you who are waiting for the missing blogs, I will get you caught up once I get caught up with life.
I am about 10,000 words into MJ's Wedding and loving the direction it's taking. I'd forgotten how much I enjoyed Max and Jane as a couple. Those two are definitely in a category of their own and should have a special place in your heart since you were there to witness the unfolding and development of their relationship. You will get a glimpse of their wedding from Nick and Bee's perspectives (yes, Bee will be at the wedding) at the end of May. There will be another surprise guest or two at this wedding. But, of course, we need to get through April.
I think this is all I have to say. I wish you a great week and an early Happy Easter.