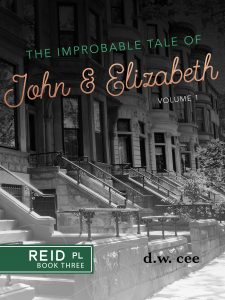 "I see that Elizabeth got all her good looks from her mother!" I hoped I didn't sound corny.
"You must be James. It's a pleasure to meet you."
"The pleasure is all mine, Mrs. Reid." Emily Reid was a gorgeous woman. Though James had her coloring, Elizabeth resembled her mom. "Lilah tells me that we have a similar upbringing?"
That was the beginning of a fantastic conversation with a very important woman. If I couldn't get to know the woman I wanted to date, the next best thing was her mother.
"I'm sorry to hear about your parents, James. I know how painful that is; it still hurts when I think about my mom and dad."
"My parents were wonderful, but it's really my grandparents who became Mom and Dad. They are the ones my brother and I thank for raising us to be fine young gentlemen." I thought I'd put a small endorsement in there for myself.
Mrs. Reid smiled. She had a beautiful smile just like her daughter. "Why don't you tell me something about the fine young gentlemen that your grandparents raised?" She had a sense of humor, too.
"John and I were born and raised in Beacon Hill. We went to a small private school, and then BU. We did the normal things growing up; we learned to play an instrument, we played football and lacrosse, and we fought a lot."
"Was it just the two of you and your grandparents?"
"Pretty much. We had loads of friends, but very few in terms of family."
"Tell me about yourself, specifically, James."
Maybe because I hadn't experienced my mother's love in such a long time, I adored this time with Mrs. Reid. Comforting, relaxing, and engaging—she was everything a child wanted in a mother.
"I'm the younger twin, but definitely the more outspoken one. Though I was born only fifteen minutes behind John, he took on the role of the firstborn with aplomb. He tends to give while I tend to take," I answered with laughter.
"That's not too different from my James and Elizabeth. He takes his role as the oldest Reid of his generation very seriously. As a young child, and even now, he's forever making sure his sister is well taken care of—though all the men in our family are protective like that."
What an ideal family! "John's the serious one, whereas, I'm the fun one. He's the perfect grandson, brother, student, friend, and neighbor. I'm the beneficiary of all this kindness. We do well with one another."
"I'd like to meet John one day. When will he arrive?"
"Hopefully soon. Our grandparents are doing much better, according to John. They may even come to LA with him."
"That's wonderful! Please bring them here for a meal when they arrive."
"Definitely, Mrs. Reid. I'm sure my family would enjoy meeting the Reids."
This day would've only been better had Elizabeth not flown off to New York.
"I'm sure you'd like to mingle with other people, James. Don't let me keep you." I seriously couldn't help staring at Mrs. Reid. I didn't know what I appreciated more, her beauty or her motherly kindness.
"If you don't mind, may I ask you a few things about Elizabeth?"
There was laughter in her eyes. "Sure."
"Has she mentioned me at all?"
"No, but, I haven't seen much of my daughter. The hospital keeps her busy, as I'm sure you know."
"I assume Elizabeth is not dating anyone seriously?"
"Not to my knowledge."
"Do you think we'd suit?"
Very matter-of-factly, she answered, "Hard to say, James. Ellie's never been serious with any boys, and she hasn't dated much, to her father's delight. I'm not sure who would suit my only daughter."
I didn't know whether what Mrs. Reid said was a good thing or a bad thing. I liked that she'd not been serious with any other man, but would I, could I, be that man?
"May I ask Elizabeth on a date? Would you mind if I came around more often?"
With a smile that looked more like a smirk, Mrs. Reid answered, "Why don't we ask the person who can answer that question better than I?"
I turned to see a not-too-happy Dr. Reid standing behind me.
Uh-oh…