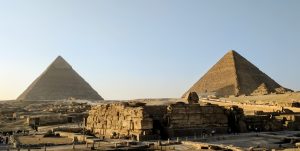 Hello! Hope you all had a restful Thanksgiving break. Ours was filled with adventure–more so than we expected.
We started on Sunday with a flight into Amsterdam. We spent a full day and night in Amsterdam, sightseeing and revisiting our favorite places. Then, we hopped on Egypt Air and landed in a smoggy, smelly, but incredible city of Cairo. (Yes, Cairo is safe.) We stayed at a location called the Mena House where we woke up to the sights of the the Pyramid of Giza every morning. To say the view was incredible wouldn't do it justice. The first full day, we toured all the pyramids (there are more than three and only one is called the Pyramid of Giza). Because tourism is down 90%, there were very few people at any of the pyramids. Without a wait, we had full access to the outside as well as the inside of these wonders. While inside one of the pyramids, we saw hieroglyphics on walls as well as an empty tomb. To think that these treasures were built 4500 years ago and that they're still standing is mind boggling. Toward the end of the day, the four of us went on a camel ride around the backside of the Pyramid of Giza and came back to the hotel filled with wonder.
The next day, our guide gave us a taste of city life. We started in a local market where for $1.50, someone will kill a live chicken, pluck it, skin it, debone it, and have it prepped for tonight's dinner. The average salary is $4 a day so you can see that a whole chicken would be a luxury for a lot of people. We then walked through different parts of town and eventually visited the Egyptian Museum. I'd thought I'd seen many great museums around the world; this museum was the absolute best!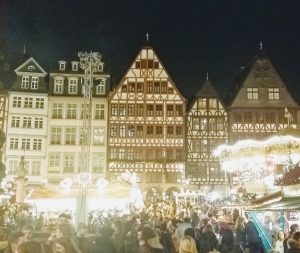 After three nights in this historic city, we crossed off another bucket list item and went to Frankfurt for their Christmas Market. MAGICAL! The backdrop of Rom square with all the Christmas vendors made us giddy (well, maybe it was two out of four of us who were giddy). After eating, shopping, and all-around gazing, we went to bed, thinking we were headed home the next day.
This is where the planes, trains, and automobile part comes in. Throughout our time in Cairo, we had 2G connection and so we were very limited in internet surfing. Once we landed in Frankfurt, we headed straight to dinner and Christmas Market, so I didn't have a chance to learn that the Lufthansa Airline pilots had gone on STRIKE! OMG!!! Once I figured this out, late at night, I realized we wouldn't get on a flight out from Frankfurt. So, being the forward thinker that I am (or thought I was), I purchased train tickets for us to head into Brussels. The flight in Brussels was completely empty. We got up early, hopped on a train, and three hours later, we were in a new country, new airport. Unbeknownst to me, everyone had the same great idea and showed up in Brussels, but via plane. All the seats were taken by the time we came via train.
To make the best of the situation, we enjoyed our day in Brussels and visited another Christmas Market. We figured we'd get on a flight the next day, Sunday. We figured wrong! Believe it or not, EVERYONE and their mothers came to Brussels and now, the flights here were impacted whereas Frankfurt was EMPTY. Can you believe this? So, we headed back to Frankfurt via train, again. This is where the story gets worse (if that's even possible). We arrived at the train station to find that the tracks were broken somewhere along the way from Brussels to Frankfurt. The people at the office gave us an alternate route where we were to take a different train, get off, get on a bus, and then figure out our way back to Frankfurt on our own. OMG! With no other choice, we got on the train, but found two very kind Germans who led us to the Frankfurt Airport after changing trains four times!!!
From here, we spent another night, finally got on a flight that took us from Frankfurt to JFK. From JFK, we flew into Vegas where we rented a car and drove 3.5 hours home. What an added adventure. The kids missed a days of school, but otherwise, everything else was fine.
I hope your Thanksgiving wasn't as adventurous as ours :). Blogs continue as usual. I still don't know when the book will be released as the story has not ended (in my mind). Trying to hold onto Nolan & Delilah just a little longer…