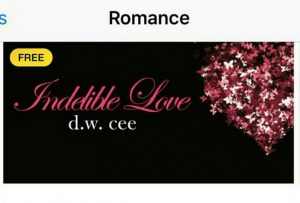 I <3 iBook!
I seem to be having a love affair with iBooks this past month. First, iBooks UK gave me a huge plug on the top carousel of their front page. Next, iBooks US promotes Emily's Story as a "Series Starter," which, by the way, is still on the Romance page. Now, iBooks Australia and NZ are promoting Emily's Story as their Free Book of the Week! I am incredibly grateful to iBooks for all their support. If you are an Aussie Reider, go look for my book cover and send me your screenshots. (PC: Aussie Reider, Jodi P)
In other news…Nolan and Delilah will make an appearance soon. I just haven't decided when. I have a crazy few weeks ahead of me with golf, softball, and a DW + DG long weekend in Chicago. With that being said, a lot of Nolan & Delilah have been written, but there's a lot I want to figure out before starting this blog road again. (Kind of said a lot, but not really, huh?) Their story will continue…as will Ellie & John. They're both talking to me, like, all the time. There are some formatting questions I need to resolve before the new writings begin. (Once again, a lot said, but nothing explained.)
10,000 Reasons is done, but the fun continues. First, I want to thank all of you for your words of encouragement and for your book reviews. I know it's not easy to write a review. I, myself, never write one (smh). For those of you who take the extra time to do this on my behalf, you are awesome! (For those of you who write negative reviews…I really wish you'd keep your thoughts to yourselves. 😉 ) Also, for those of you who've started and finished this 10,000 Reasons journey with me, I have a surprise for you in the works! Did any of you notice that there was no epilogue in Book 4? Well…you guessed it. An epilogue is in the works. Since I'm not done writing the epilogue, and since there are those who are not done reading all four books, I'll let you know, soon, how you can get a hold of this extra.
Next, congrats to Tracey O for answering every one of the trivia questions correctly! I was very impressed that you picked up every clue I dropped about Jenna being Delilah's editor. Not even those closest to me figured this out. You will be my "guinea pig" with Nolan & Delilah Vol. 2. I have to say, many of your answers were quite creative, but not correct. As for the Xander and Nolan connection, if there is a connection, you will find out in Vol. 2. Yes, 10,000 Reasons and Nolan & Delilah intersect along Pacific Coast Hwy (For the last time, a lot said, but very clarified.)
Talk again soon!