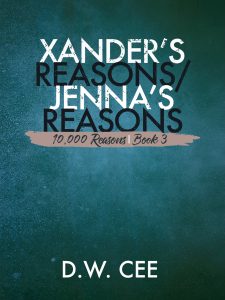 I can't begin to tell you how much I love this story. I think of Xander and Jenna and wonder how I can extend their story – that's how much I love it. Kindle, iBooks, and Smashwords have released Book 3 for purchase. Nook (drives me crazy!!!) does not have it published, yet. For you Nook peeps, I say go get your book from Smashwords. You can download your epub copy and send it straight to your Nook device.
If you don't believe me when I say this series is good, here are some early reviews of Book 3 that I copied off my FB page.
"I received around midnight and finished it!!! Lol… I couldn't help it, it was hard to put down. By the way, it was AMAZING!!!"
"Ahhhhh this may be your best book ever!"
"It was amazing !!!!"
For those of you waiting for the series to end, start it today. By the time you're done with all three books, it'll be next Tuesday. Thank you all for your wonderful words of encouragement! I think you'll be really happy with Forever Reasons, Book 4.