Thank you again, to Jodi Pollard, for bringing this to my attention.  Indelible Love – Emily's Story hit the top 100 in (not the freebie list) but the sales list.  Yay!!!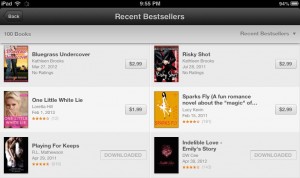 iBooks does not make it easy for indie authors like me to check their status or sales.  Amazon allows us to log into a site where we get real time sales report and ranking.  For iBooks, I see only what you see (in America).  Might I ask my international readers/friends for a favor?  Could you search me or my books and see if you find it on any of the top sales list?  If so, can you take a picture of it from your iPhone or iPad and send it to me via dw@dwcee.com or my Facebook page?  I'd love to know where I stand (if anywhere) around the world.
I know that Entwined is still not up on iBooks.  I have sent queries asking about this issue but have gotten no response.  Gosh, it's tough being a no-name author.  🙂
PS – MJ's blog has been smooth sailing so far, which means…bumpy roads ahead.  I can only liken Feb and March blogs to Mr. Toad's Wild Ride.  We all need a little drama in our lives, right???