10,000 Reasons is here!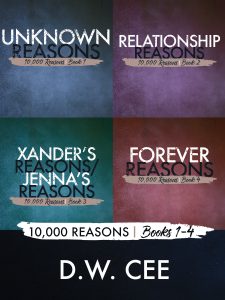 The books are up for presale (kind of)…
Today has been one of those days! I rushed, rushed, rushed to get all four books uploaded for presale on Amazon Kindle and iBooks (sorry, no Nook. They don't allow indie authors presale privileges) and many hours later, I find that they're all live, but one. Of course, the first book, Unknown Reasons can only be ordered in the iBookstore (as of now). I don't know why Kindle uploaded books 2, 3, & 4, but failed to do so for book 1. I'm hoping it'll be active by the time I wake up tomorrow.
These books are ready for consumption and if I do say so myself, they're delicious. Even after having read them numerous times, I still crave them. That's a good sign, right? The first book, Unknown Reasons, will be published next Tuesday, August 16. From there on, I will drop a book every Tuesday with Relationship Reasons (Book 2), Xander's Reasons / Jenna's Reasons (Book 3), and Forever Reasons (Book 4).
After you read each book, I'd love to have a dialogue with you on the story line. Please write to me and tell me what you thought of our hero and heroine. They'll both grab you from the moment you meet them.
Anyhoo, preorder your books on iBooks and Amazon now! They'll be here in less than a week.